Features:
Low Noise
Adjustable gain and band-width
Compact size
Single and multi-channel configuration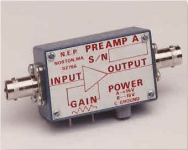 Specifications:
Electrical
Mechanical
Band-width (nominal)
20 kHz
Length
2 3/16 in.
Gain (minimum)
20 db
Width
1 3/8 in.
Gain (maximum)
87 db
Height
1 3/8 in.
Gain Control
Adjustable
Input connector
BNC
Input impedance
100 M ohms
Output connector
BNC
Output impedance
100 ohms
Power connector
3 pin
DC power requirements
±15 volts/ 8 mA
Noise (nominal)
65 nV/Hz1/2
For more information or if you have questions about this pre-amplifier, please contact us.