Despite many advantages devices containing heavy metals (Hg, Cd and Pb are successively removed from the consumer market through norms and directives (e.g. RoHS) due to their toxicity.
These A3B5 semiconductors are a great candidate to replace HgCdTe and PbSe in fabrication of photodetectors. After years of intensive research and development work, VIGO is ready to present the first generation of photoconductors and photovoltaic MWIR and LWIR devices based on the complex heterostructures with InAs/InAsSb superlattice absorbers.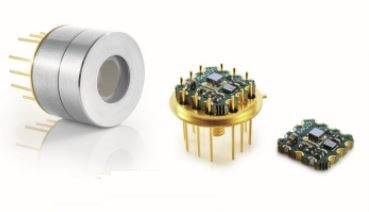 These RoHS compliant devices are characterized by performance comparable with their MCT and PbTe counterparts operating at the same spectral and temperature ranges. The devices also have a significantly better resistance to environmental exposure.
InAs/InAsSb Superlattice Detectors
InAs/InAsSb T2SL Photoconductive Detectors
VIGO System is developing a variety of MWIR and LWIR Type II superlattice (T2SL) photoconductive (PC) and photovoltaic (PV) detectors, operating at room temperature or thermoelectrically cooled. These detectors achieve excellent parameters without cryogenic cooling (LN2). They do not contain mercury or cadmium and are compliant with the RoHS Directive.

InAs/InAsSb T2SL Photovoltaic Detectors
32-Element InAsSb Array
VIGO System's 32-element InAsSb array is now available, with dedicated preamplifier. The line detector is a set of individual active elements and the signal of each of them is output independently. A multi-element detector, unlike a single-element detector, allows to record radiation of different wavelengths at the same time. VIGO specializes in customized detectors and modules dedicated to the client's application. 32-element arrays are now available in production with dedicated preamplifiers.