High Speed Photoreceivers – up to 400 MHz
Si and InGaAs Photodiodes
Wavelength Range from 320 to 1700 nm
Bandwidth DC to 400 MHz
Rise Time 1 ns
Max. Conversion Gain 5.0 x 103 V/W
High Sensitivity Photoreceivers at High Bandwidth
The series HCA-S-400M Photoreceivers combine fast photodiodes with the proven and outstanding FEMTO HCA Current Amplifier technology. The HCA-S-400M is available with either a fast Si or InGaAs photodiode covering a spectral range from 320 to 1000 nm and 900 to 1700 nm, respectively.
The amplifier transimpedance is 5 x 103 V/A resulting in a maximum conversion gain of 5 x 103 V/W at 1550 nm for the InGaAs model. The sophisticated DC coupled multi-stage amplifier design allows measurements from DC to a maximum bandwidth of 400 MHz corresponding to a minimum rise-time of 1 ns. Due to the low-noise design signals with an optical power in the micro-Watt range can be detected without the need for further averaging. Different models with free space or fiber optic input are available.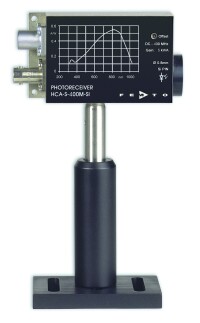 Best Possible Solution With Customized Photoreceivers
Every application is different with its individual requirements for bandwidth, gain and responsivity. Therefore FEMTO offers customized photoreceivers with optimized specifications for a great variety of applications in addition to the standard product portfolio. After a detailed analysis we offer individual solutions at very reasonable prices and already in single quantities.
More information on custom photoreceivers.
Applications
Spectroscopy
Fast Pulse and Transient Measurements
Optical Triggering
Test of Digital Fiber-Optic Systems
Optical Front-End for Oscilloscopes and A/D Converters
Model
HCA-S-400M-SI
HCA-S-400M-IN
Spectral Range
320 ... 1000 nm
900 ... 1700 nm
Bandwidth (-3dB)
DC ... 400 MHz
DC ... 400 MHz
Rise/Fall Time (10% - 90%)
1 ns
1 ns
Transimpedance Gain
5 x 103 V/A
5 x 103 V/A
Max. Conversion Gain
2.7 x 103 V/W
4.8 x 103 V/W
Min NEP
40 pW/√Hz (@ 800 nm)
24 pW/√Hz (@ 1550 nm)
Saturation Power
400  μW  (@ 800 nm)
200  μW  (@ 1550 nm)
Detector
Si PIN, Ø 0.8 mm
InGaAs PIN, Ø 0.3 mm
Input
Free Space, 25 mm Ø Flange
Output
50 MΩ, BNC
Output Voltage Range
± 1.5 V @ > 50 MΩ Load
Power Requirements
± 15 V, ± 55 mA Typ.
CAB-LN1 Low Noise Input/Output Cable available

Threaded M4 and 8-32 holes for mounting on standard posts. 25 mm Ø flange compatible with microbench systems. Offset adjustable by trimpot. Fiber optic input optional. Output short-circuit protected. Power supply via 3-pin LEMO socket. A mating connector is provided with the device.  Optional power supply PS-15 is available. The photoreceivers with free space input come with threaded M4 and 8-32 mounting holes for integration in optical bench systems. For further information please view the datasheet.