The most common beam expander is Galilean type which usually has one negative input lens and one positive output lens. The beam expansion ratio for a Gaussian beam depends not only on the specifications of the beam expander, but also on the laser beam parameters as well as the positions of the optical lenses.
Beam Expanders –  1064/532/355/405/266nm
Mounting Version for Beam Expander
The new beam expander mounting is an adjustable mount that has been a widely accepted model that can compensate various degrees of input beam. Now with the new mount, the operation of adjusting the first lens is more convenient. The user only needs to turn the center part of the beam expander and the first lens will move accordingly along the optical axis with no rotation.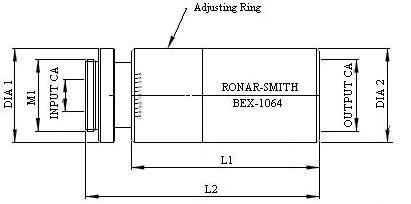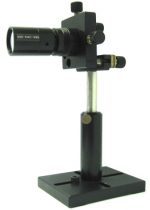 Advantages
This mount also has advantage as the first lens does not rotate in respect to the second lens. It also has been equipped with scale for the user to measure the distance of the lenses.
Beam Expander Adjustable Series Features
1064nm Beam Expander
Part No.
Magnification
Input CA
(mm)
Output CA
(mm)
M1
Dia 1
(mm)
Dia 2
(mm)
L1
(mm)
L2
(mm)
BEX-1064-1X
1
15.5
23
M22x0.75
31
29
45.6
65.6
BEX-1064-1.2X
1.2
16
23
M22x0.75
29
29
50.46
54.93
BEX-1064-1.5X
1.5
15
22
M22x0.75
32
32
46.9
51.9
BEX-1064-1.5X1
1.5
15.5
23
M22x0.75
25
29
35.46
44.46
BET2X/1064
2
3
4
M24x0.5
26
M24x0.5
28
41
BEX-1064-2X
2
10
20
M22x0.75
26
26
28
42
BEX-1064-2X1
2
15
23
M22x0.75
29
31.5
31
45
BEX-1064-2.5X
2.5
10
23
M22x0.75
29
29
53
67
BEX-1064-2.5X1
2.5
10
23
M22x0.75
29
29
58.55
79.75
BET3X/1064
3
10
17
M24x0.5
26
26
45
58
BEX-1064-3X
3
10
20
M22x0.75
-
26
44.7
60
BEX-1064-3X1
3
10
33
M30x1
40
40
43
57
BEX-1064-3X3
3
10
23
M22x0.75
29
29
42
58
BEX-1064-4X
4
10
22
M22x0.75
29
29
64
81
BET5X/1064
5
10
23
M33x0.5
M33x0.5
M33x0.5
57
73.1
BEX-1064-5X
5
10
23
M22x0.75
29
29
55
72
BEX-1064-5X1
5
10
16
M16x0.75
20
20
42
56
BEX-1064-6A
6
6
13
M16x0.75
20
20
56.81
71.81
BEX-1064-6X
6
10
22
M22x0.75
29
29
54
70
BEX-1064-6X1
6
10.5
26
M22x0.75
32
32
79
89.39
BEX-1064-6X2
6
6
16
-
25
25
-
69.64
BEX-1064-7X
7
6
23
M22x0.75
29
29
60.43
76.43
BEX-1064-8X
8
10
22
M22x0.75
29
29
58
76
BEX-1064-10X
10
8
22
M22x0.75
29
29
52
70
BEX-1064-10X1
10
11
34
-
40
40
79
94.54
BEX-1064-10XI
10
8
22
M22x0.75
29
29
56
70
BEX-1064-12A
12
6
13
M16x0.75
20
20
64.81
79.81
BEX-1064-15X
15
7.5
28
M30x1
36
45
-
99.12
BEX-1064-20X
20
8
28
M22x0.75
45
45
76.27
91.27
BEX-1064-30X
30
6
38
M22x0.75
30
46
103.6
118.6
BEX-1064-40X
40
1.25
50
-
60
60
-
207.24
BEX-1064-5Z
5
10
32
M30x1
37.6
M43x0.5
77.6
84.6
BEX-1064-5Z1
5
10
32
M30x1
37.6
M43x0.5
77.6
84.6
BEX-1064-6Z1
6
10
26
M30x1
36
M43x0.5
57
72
BEX-1064-8Z
8
10
34
M30x1
36
M43x0.5
68
83
BEX-1064-10Z
10
11
34
M30x1
43
M43x0.5
80
95.9
1064nm Beam Expander (Custom)
Part No.
Magnification
Input CA
(mm)
Output CA
(mm)
Dia 1
(mm)
L1
(mm)
Dia 2
(mm)
L2
(mm)
BEX-1064-30X-100OP
30
10
100
M30X1
195
120
-
BEX-1064-40X-120OP
40
8
128
M30X1
140.53
153
188.77
1064-532nm Beam Expander
Part No.
Magnification
Input CA
(mm)
Output CA
(mm)
Dia 1
(mm)
L1
(mm)
Dia 2
(mm)
L2
(mm)
BEX-1064--532-5X
5
6
18
M22X0.75
29
56
Green (532nm) Beam Expander Adjustable Series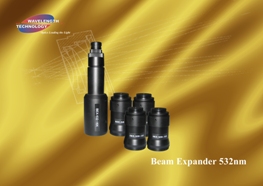 Beam Expander Adjustable Series Features
Part No.
Magnification
Input CA
(mm)
Output CA
(mm)
M1
Dia 1
(mm)
Dia 2
(mm)
L1
(mm)
L2
(mm)
BEX-532-2X
2
6
23
M22x0.75
30
30
83
67
BEX-532-2XA
2
13
23
M22x0.75
30
30
82.68
67.68
BEX-532-3X
3
6
23
M22x0.75
30
30
83
67
BEX-532-4X
4
6
23
M22x0.75
30
30
83
67
BEX-532-5X
5
8
24
M23x0.75
30
30
83.2
65.7
BEX-532-6X
6
6
23.6
M22x0.75
30
30
83
67
BEX-532-10X
10
6
23
M22x0.75
30
30
83
67
BEX-532-12X
12
7
24
M22x0.75
30
30
83
67
BEX-532-15X
15
6
32
M30x1
40
M43x0.5
85
67
BEX-532-18X
18
5
40
20.5mm
20.5
47
176.5
163
BEX-532-20X
20
6
38
M30x1
40
40
95.2
66.73
BEX-532-20X-Q
20
8
32
M22x0.75
-
45
92.26
75.26
BEX-532-30X
30
5
38
M22x0.75
30
46
108.72
123.72
405 nm BEX – Adjusted Series
Part No.
Magnification
Input CA
(mm)
Output CA
(mm)
Dia 1
(mm)
Dia 2
(mm)
L1
(mm)
L2
(mm)
BEX-405-1.5X
1.5
60
30
-
46
85
-
BEX-405-2X
2
6
30
-
46
85
-
BEX-405-3X
3
6
30
-
46
85
-
BEX-405-5X
5
6
30
-
46
85
-
BEX-405-7X
7
4.2
30
-
46
85
-
BEX-405-10X
10
3
30
-
46
89
-
BEX-405-20X
20
1.5
30
-
46
95
-
UV (355 nm) Beam Expander – Adjustable Series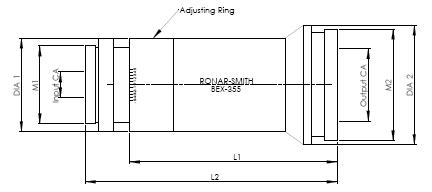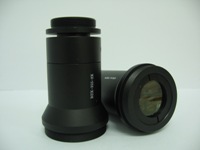 Beam Expander Adjustable Series Features
Part No.
Magnification
Input CA
(mm)
Output CA
(mm)
M1
M2
L1
(mm)
L2
(mm)
BEX-355-1.5X
1.5
7.0
24.0
M30x1
M43x0.5
48.1
76.5
BEX-355-2X
2
7.0
24.0
M30x1
M43x0.5
47.24
75.64
BEX-355-3X
3
7.0
24.0
M30x1
M43x0.5
48.93
77.33
BEX-355-4X
4
8.0
28.0
M30x1
M43x0.5
48.93
77.33
BEX-355-5X
5
8.0
28.0
M30x1
M43x0.5
-
71
BEX-355-7X
7
8.0
28.0
M30x1
M43x0.5
73.13
88.13
BEX-355-8X
8
8.0
28.0
M30x1
M43x0.5
70.0
84.0
BEX-355-10X
10
6.0
28.0
M30x1
M43x0.5
80.5
96.0
BEX-355-15X
15
6.0
28.0
M30x1
M43x0.5
-
95.0
BEX-355-20X
20
6.0
28.0
M30x1
M43x0.5
81.3
97.0
266nm BEX – Fixed Series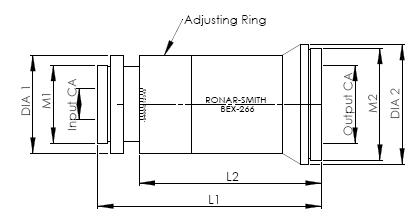 Part No.
Magnification
Input CA
(mm)
Output CA
(mm)
Dia 1
(mm)
Dia 2
(mm)
L1
(mm)
L2
(mm)
BEX-266-1.5X
1.5
8.0
24.0
30.0
30.0
46.2
63.7
BEX-266-2X
2
8.0
24.0
30.0
30.0
55.0
73.0
BEX-266-3X
3
10.0
23.0
30.0
30.0
38.2
68.7
BEX-266-5X
5
10.0
23.0
30.0
30.0
58.6
69.6
BEX-266-10X
10
6.0
23.0
27.0
30.0
82.6
95.6
BEX-266-20X
20
1.5
30.0
37.6
46.0
75.0
89.5