smartGAS specializes in the development, production and calibration of NDIR gas sensors and are revolutionizing industrial applications worldwide.  smartGAS state-of-the-art sensors offer high accuracy and performance in any environment. But that is not all. As your trusted partner, they go beyond the NDIR range and offer a comprehensive range of gas analyzers that push the boundaries of technology and enable industry to achieve remarkable results.
BasicEVO & TransmitterEVO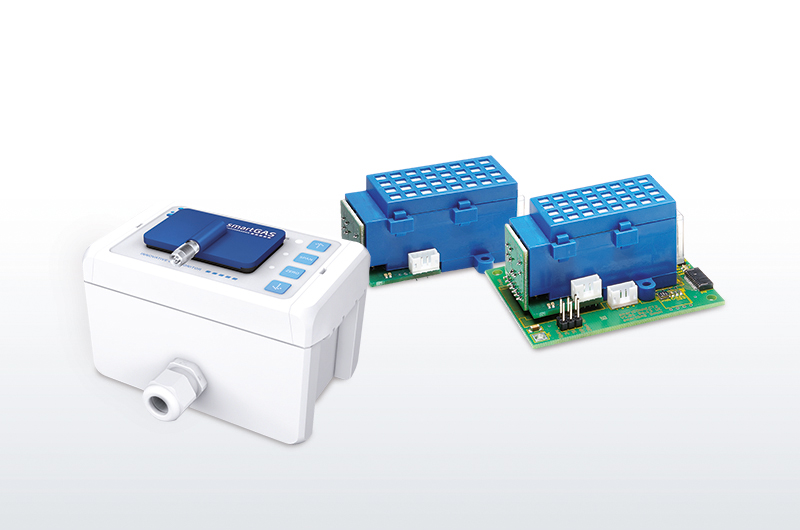 Stationary Gas Analyzer Anarex & Portable Gas Analyzers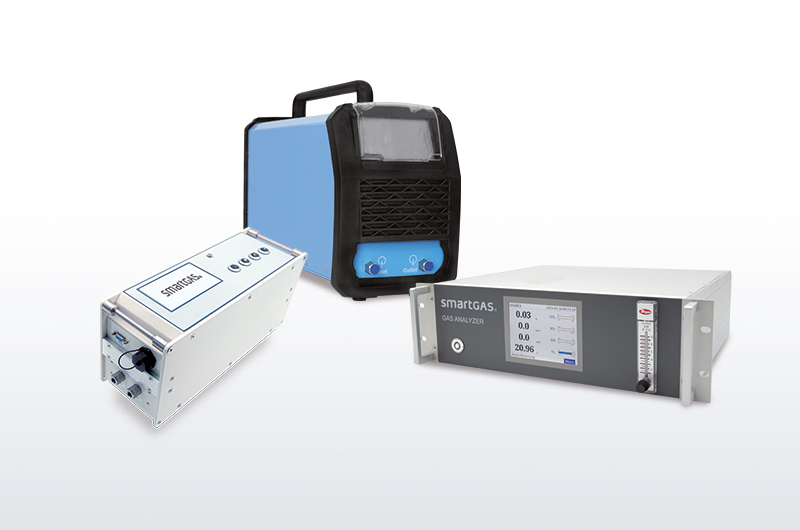 FLOWEVO, SILAREX, PAS & Paramagnetic O2
Gas Sensor Calibration Tool Software, PREREX Gas Conditioning Systems
smartGAS gas sensors use infra-red absorption of gases (NDIR technology) and other technologies that are accurate, reliable and cost-efficient. They are suitable for an extremely wide variety of applications in process measuring technology and ambient air monitoring.
As a solutions provider for gas sensor technology, smartGAS can offer custom solutions.  Gases include:
CO & CO2
Acetone, n-butane, ethane, methane & propane
Refrigerant gases
NOX and other pollutant gases
These NDIR gas sensors work without moving parts or chemical reactants. This minimizes the maintenance work and thus the operating and servicing costs compared with other gas sensor technology. These gas sensors are environmentally friendly, long-lasting and reliable.  You too can benefit from smartGAS' expertise!
New from smartGAS:
The SYMECO approach from smartGAS allows you to use different NDIR sensors from the FLOWEVO line. As an example, you can measure CO

2

 in % and CO in ppm with the same interface.
More ranges for CO measurement are available in their FLOWEVO series: 2000 ppm, 5000 ppm, 10 vol.-%, 50 vol.-% & 100 vol.-%
smartGAS' new NDIR Broadband refrigerant sensors from smartGAS provide a flexible solution for measuring multiple gases in one set-up. The broadband refrigerant sensor is calibrated to 2000 ppm R134a, but is also great for measuring R125, R404a, R407a and R410a. You select the gas to be measured in your application and apply the appropriate conversion factor.
The  SILAREX sensor platform allows multiple gases to be measured in the same module. It also has pressure compensation.
The functional principle of smartGAS sensors & modules
The IR principle uses the individual absorption spectrum of the gas being measured. The exact gas concentration is determined through precise quantitative analysis of this spectrum. Because of this, their gas sensors function very selectively and are virtually unaffected by other environmental factors or gases.


The functional principle of our gas sensors: long-term stability and performance thanks to NDIR technology from smartGAS
As all measured gases absorb in varying spectral ranges, a kind of "fingerprint" arises that allows very selective characterization without cross-sensitivities. Gas sensors from smartGAS possess an integrated electronic evaluation system that displays a simple to use concentration signal to you as the user and reliably compensates for all drift and temperature influences.
Gas sensors for the process measuring technology
The precise and selective gas sensors from smartGAS are distinguished by simple handling and cost efficiency – even in demanding applications. Knowledge of the internal flows and current state of a process is essential for the control and cost-efficient operation of plants. If measurements are lost, or if they cannot be used, this can lead to high costs. We possess this knowledge and incorporate it in your application as a solution. Our optimized optical components, in combination with the adapted software, ensure high long-term stability and performance – for your application too. In contrast to chemically-based gas sensors, their products are not only lower-maintenance and longer lasting, but also detect even chemically inactive gases quickly and reliably.
Gas sensors for ambient air monitoring
The monitoring of gas concentrations in the ambient air requires especially long-term stable and reliable gas sensors. The measurements are usually carried out 24/7 – 365 days in the year. Reliability and insensitivity to external influences therefore make gas sensors from smartGAS the first choice for your measuring task.
Precalibrated, Compact NDIR Gas Sensor Modules
FLOWEVO Long Path Modules for Process Measurement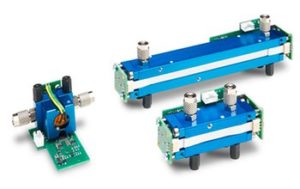 NDIR sensors from smartGAS offer many advantages for successful process measurement and are therefore ideal for use in process control. They have a large spectrum of measurable gases and are especially convincing where it is important to have the utmost precision and reliability. Different versions can be very easily combined, also facilitating complex measuring tasks. All smartGAS sensors are designated by low detection limits, very small drift, a large temperature range and a fast response time and markedly low operating and maintenance costs.
"Ready to use" NDIR sensors
Low maintenance
Low detection limits
Selectivity against influencing gases
Flexible interfaces
Temperature and drift compensated
Compact construction
Our NDIR sensors in the FLOWEVO series combine measuring precision with compact design and simple handling. We have minimized sizes considerably, without having to make compromises in terms of performance.
Product
Gases
Sensitivity - ppm
Size
Long Path Modules
Many*
High
156 x 30 x 37 mm
F3-032205
C2H4 Ethylene
20ppm / 2000ppm
F3-042505
CH4Methane
50ppm / 5000ppm
F3-222108
CO Carbon Monoxide
0.2% / 100%
F3-222205
CO Carbon Monoxide
20ppm / 2000ppm
F3-212205-05000
CO2 Carbon Dioxide
8ppm / 2000ppm
F3-272504-05000
N2O
500ppm
F3-600503
SF6
0.5ppm / 50ppm
* Gases include acetone, n-butane, CO, CO2, ethane, methane, propane, refrigerant gases & NOX and other pollutant gases.
FLOWEVO Short Path Modules for Process Measurement
Product
Gases
Sensitivity - ppm
Size
Short Path Modules
Many*
Medium
76 x 30 x 37 mm
F3-222207
CO Carbon Monoxide
0.07% / 20%
F3-212506-05000
CO2 Carbon Dioxide
0.03% / 5%
F3-212207-05000
CO2 Carbon Dioxide
0.07% / 20%
F3-600105
SF6
8ppm / 1000ppm
F3-600108
SF6
0.3% / 100%
* Gases include acetone, n-butane, CO, CO2, ethane, methane, propane, refrigerant gases & NOX and other pollutant gases.
BASICEVO Sensors for Diffusion Applications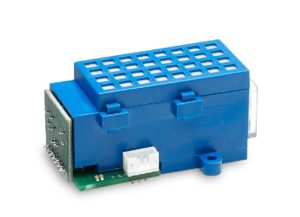 Diffusion sensors for ambient air monitoring are available from smartGAS as the BASICEVO series. Just like all smartGAS-sensors are distinguished by low detection limits, very slight drift, a large temperature range, a fast response time and low maintenance costs. The BASICEVO series is therefore the optimal solution for all applications in which an ambient air sensor should be reliable and at the same time simple in its handling.
"Ready to use" NDIR sensor
Low maintenance
Low signal drift
Long lifetime
Selectivity against influencing gases
Compact construction
Gas inlet by diffusion
Simple, compact, everything on board – BASICEVO offers the perfect basis when it comes to cost-efficient ambient air monitoring – without compromises in the performance!
| Product | Gases | Sensitivity - ppm | Size |
| --- | --- | --- | --- |
| Diffusion Modules | Many* | Low | 70 x 60 x 37 mm |
| B1-040446 | CH4Methane | 1% / 4.4% | |
| B3-212207-03000 | CO2 Carbon Dioxide | 0.01% / 20% | |
| B3-272504-03000 | N2O | 500ppm | |
| F3-600108 | SF6 | 3% / 100% | |
* Gases include acetone, n-butane, CO, CO2, ethane, methane, propane, refrigerant gases & NOX and other pollutant gases.
SILAREX Multiple Gas Solutions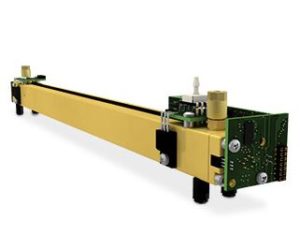 Applications such as emission measurement require the simultaneous analysis of multiple gases like CO2, NO and SO2. SILAREX gas sensors have been developed for this application case and enable parallel concentration measurement of up to three measuring gases with one single NDIR gas sensor. The cross-sensitivities of the individual gases are compensated directly inside the SILAREX sensor, providing the user with fully prepared and corrected measuring values via Modbus ASCII / RTU for further processing. Compared to measuring with three individual sensors, the advantages are obvious: Only one sensor needs to be calibrated and maintained; varying sample preparation, different accuracies or life cycles of the sensors do not need to be considered.
Measure up to three gases (or 3 gas concentrations) simultaneously with one setup with one of the 4 channels still used as a reference.
Cross-sensitivity is calculated on-board.
Pressure and temperature are compensation on board.
Ready to use, calibrated shortening your development time.
NDIR technology for complex measurement tasks.
Standard Products
Silarex 3 Channel
CO2 20 Vol.-%, NO 2000 ppm, SO2 1000 ppm I SX-300003-00000
CO2 3-ch low range I SX-300011-00000
Silarex 2 Channel
CO2 20 Vol.-%, CO 1000 ppm I SX-200002-00000
CO2 20 Vol.-%, CO 10.000 ppm I SX-200004-00000
CO2 20 Vol.-%, CO 500 ppm I SX-200009-00000
CO2 20 Vol.-%, CO 2000 ppm I SX-200010-00000
SAE Module controls the sensor environment 
The SAE Module is the complete "Box" with:
Power Supply
Heater
Interface – RS485 digital output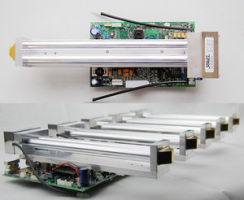 PAS – Photoacoustic Sensors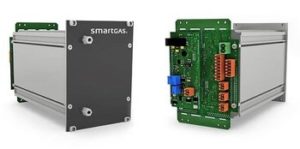 The PAS sensor is based on the principle of photoacoustic spectroscopy (PAS), one of the most sensitive measuring methods for detecting gases. With even higher precision and reliability, the PAS detects gas volumes minimum measuring in ppm range. The sensor module can control all processes and components itself, an external control is not necessary. The PAS sensor is characterized by a very low zero point drift and automatically compensates the water vapor cross-sensitivity.
Low drift
Low maintenance
Low detection ranges
Designed for 24/7 operation
PAS – The sensor with a measuring method that detects even the smallest gas concentrations
Transmitter EVO
TRANSMITTEREVO – the OEM customer solution from smartGAS
The TRANSMITTEREVO is a device for the stationary, continuous monitoring of gas concentrations in the ambient air. The measuring of gases has long since become standard in many applications. In the past, customers and developers were previously often forced to adapt their applications and requirements to the gas measuring technology that was available at the time. smartGAS wants to change this.
This TRANSMITTEREVO was developed for customers where device development is not economical because the volumes are smaller. With the TRANSMITTEREVO, smartGAS offers the option of adapting the front display to suit the customer's design and adapting the device to his application by combining it with gas sensors from the BASICEVO series diffusion sensors. This means that you receive "your custom device" calibrated and ready to go!
"Ready to use" gas transmitter
(0)4 – 20 mA
Modbus ASCII / RTU
12 – 24 V DC input voltage
All sensors from the BASICEVO series diffusion sensors can be used
Front display can be customized to customer requirements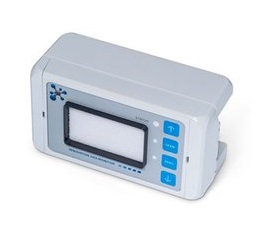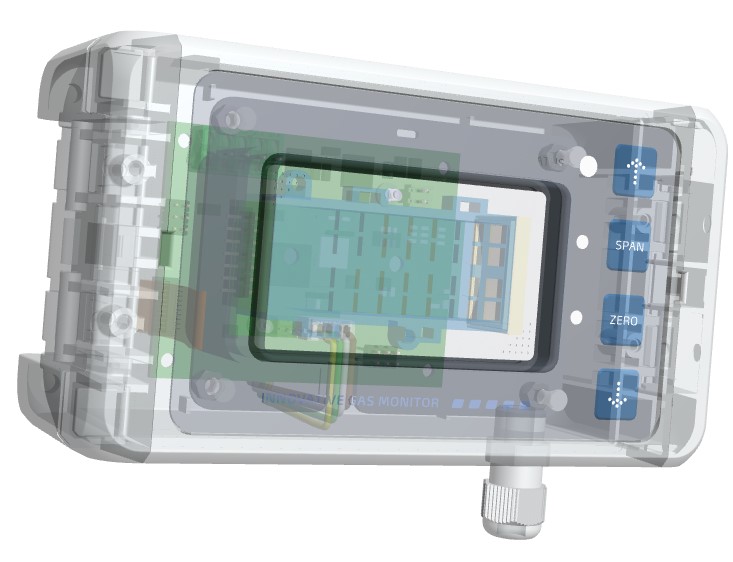 ANAREX Gas Analyzers
ANAREX Gas Analyzers for emission measurement and process control
(NDIR, PAS and many more sensors)
The smartGAS gas analyzers are high performance solutions for a variety of industrial gas measurements. Applications range from process measurement technology and emissions to fruit ripening. The ANAREX product family provides very accurate and stable measurement performance. Its customer-friendly interfacing with touchscreen and simple sensor calibration.  The ANAREX Gas Analyzer is designed as a multi-gas analyzer and bench unit 19″ rack mountable. The ANAREX mini portable units are self-contained analyzers. Some designs are  battery operated.
Multigas analyzer
Highly stable measurement performance
Easy operation via touch screen
Easy sensor calibration
The bench unit fits in a 19" rack.
The "ANAREX mini Gas Analyzer" portable units have may of the same capabilities as the bigger ANAREX Gas Analyzers.
Analogue or digital output
PREREX Gas Conditioning Systems
Complete gas conditioning system for filtering and drying the sample gas.
Most gases in process measurement technology do not come from clean environments and do not have a clearly defined composition. Combustion exhaust gases, biogas or ambient gases are always contaminated with dust or moisture. The smartGAS PREREX is an ideal solution for application optimized sample gas conditioning.
The PREREX gas conditioning system is a powerful all-in-one solution that combines all the necessary components in one housing. The compact unit generates an extremely precise and long-term stable dew point, even with changing loads, and offers optimum operational reliability. This complete solution is designed for installation in a 19″ rack.
PREREX impresses with its maintenance-friendly design and safe operation. Thanks to selected components and little dead volume, PREREX ensures a fast response time.
Product features:
Complete solution for a large number of applications
Reliable and reproducible measurement results
Optimum operational safety due to self-monitoring
Extremely precise dew point with long-term stability
Fast response time due to low dead volume
Very low resolution rates
Continuous condensate removal
Low maintenance operation
Easy to maintain design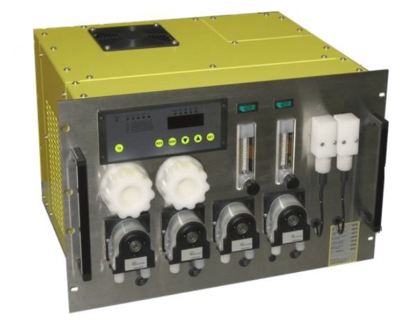 Pest Control Gas
| Product | Gases | Sensitivity - ppm | Size |
| --- | --- | --- | --- |
| Pest Control Gas | | | |
| Gas Module | SO2F2 Sulphuryl Fluoride | 4% | |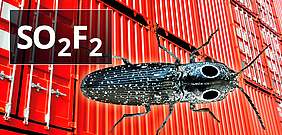 Gas Sensor Calibration Tool Software
smartGAS has updated the Gas Sensor Calibration Tool Software with the following new features.
More diagnostics
Export of data sets for remote diagnosis by smartGAS
Reset to factory settings
Graphic concentration displays
For all B3 and F3 sensors with / without Connect Interface
It is free. Download it, try it out and use it. The new tool no longer requires a license. Email us for more info and a download link.