Here is the Electro Optical Components team. We have been serving you as a key electro optical products supplier for over 20 years.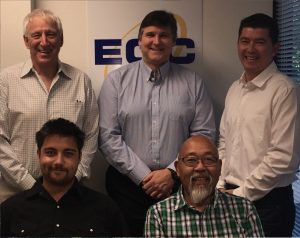 Front – Alex Galban, Primo Galban
Back – Bill Bolster, Andriko Zavadell & Wally Tang
Bill Bolster – President and CEO. Bill is an engineering graduate of Vanderbilt University. He has spent his career working with technology products and has been with EOC since 2002.
Primo Galban – Financial Officer. Primo is a financial graduate of Sonoma State University. He has been with EOC since 2007.
Andriko Zavadell – Product Manager, NDIR and UV. Andriko, originally from Canada, has been in technology sales for 20 years. He is a graduate of McGill University.
Wally Tang – Sales Engineer. Wally is a graduate of San Jose State University and has spent over 10 years working in technology sales in Silicon Valley and recently here in Sonoma County.
Alex Galban – Administrative and Shipping Assistant. Alex is an engineering student at Santa Rosa Junior College. He recently spent a year in Germany working in technology.