Xavitech micro pumps offer the highest quality and performance available.  Their uses include gas sampling for NDIR, space applications and where flow accuracy is important.  Their unique design outperforms regular diaphragm pumps.
The patented micro pump technology is the best because of the design features that give the pumps their accuracy, reliability and long lifetime:
Analog control of flow rate with built in micro-controller
No bearings or rotating motors
Shorter membrane stroke distance
"Our existing pumps would barely last one year before the diaphragm was damaged. With Xavitech we got a long service life and a two-year warranty, says Mark Swetnam, Managing director at Cambridge Sensotec."
"We do not get serial control with other micro pumps and the fact that we could eliminate the flow sensor to regulate the flow was important, says Steven Pruzia at Criticare."
Xavitech has the perfect pump for you! To make it as easy as possible for you, they have divided their standard pumps into three categories depending on how much control and customizability you want. All pumps contain our high-quality X-life™ motor and have the same standard flow performance.
Intelligent Pump
Program the Pump Yourself
BLACK Edition
5 WIRE CONNECTION
FLEX CONNECTION
+35 000H LIFETIME
PROGRAMMABLE
SERIAL CONTROL
CONTROL WITH THE XAVITECH APP
ANALOG CONTROL
VACUUM OR PRESSURE
Analog Pump
BLACK Edition
3 WIRE CONNECTION
FLEX CONNECTION
+35 000H LIFETIME
CUSTOMIZED SOFTWARE
SERIAL CONTROL
ANALOG CONTROL
VACUUM OR PRESSURE
Affordable Pump
ORANGE Edition
2 WIRE CONNECTION
5 000H LIFETIME
VACUUM OR PRESSURE
When choosing a standard Intelligent, Analog or Affordable pump, there are still a few choices to make. See chart down below for all the different configurations you can make. Custom calibration and/or firmware is also an option on the Intelligent and Analog pump, please contact us for more information.
Flow Calibration Unit for BLACK Micro Pumps
Xavitech can supply calibrated pumps according to user needs. Just as important, the users can also adjust the pump performance themselves. This is really valuable during the design phase of a system since the user will be able to compensate for condition changes simply by reprogramming the pumps. Once the system layout is fixed the user can inform Xavitech which pump setting was the best. After that, Xavitech can easily supply calibrated pumps according to the new requirements. This saves time and costs for the user.
The flow calibration unit will enable the user to adjust the flow by altering the pump frequency and storing the setting permanently into the pump memory. The flow calibration works with all Xavitech BLACK edition pumps with Flex connection.
Benefits of Using Xavitech Flow Calibration Unit
Easy calibration of pump flow
Shorter R&D time
Reduce power consumption with correct flow calibration
Reduce pump noise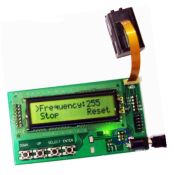 Blockage Detection
Xavitech pumps can have the ability to detect pressure changes caused by for example a dirty filter. This could replace an external pressure sensor.
Flow Control via Serial Interface
The speed of Xavitech pumps can be controlled via serial interface, which eliminates the need for external control circuitry.
Programmable Maximum Pressure

The maximum system pressure a Xavitech pump can create is always set in the calibration process. Setting a custom maximum pressure value could replace an external pressure sensor.
Keep Performance on Battery Operation

With custom firmware, Xavitech pumps can have the ability to keep flow rate constant with varying voltage.
Further Features and Customization
For more about customization or possible features please contact us. We are happy to work with you to satisfy the needs for your application.
How do I connect and start the pump?
Please see respective datasheet and the videos below.
What is the power consumption of Xavitech pumps?
Power/current consumption numbers can be found in the datasheets. For further information, please contact us.
Why do I need a capacitor parallel to the pumps power lines?
We recommend a capacitor to reduce stress on the power supply. As the pump is driven by an electromagnet, the peak current is high. This peak is reduced with a capacitor. The capacitor also helps reducing the backEMF current from the electromagnet. For 24 volt pumps we require the use of a capacitor to prevent damage to the pump's internal voltage regulator.
What is the noise level of Xavitech pumps?
The noise and sounds of a pump are dependent on many things such as set speed, system resistance, in-line filters and dampeners. Our pumps can also be tuned in production to output as little noise as possible within the customers performance specifications. Also, perceived noise does not always correspond to actual sound pressure level. Please contact us if you wish to discuss how we can reduce noise for your application.
Does Xavitech pumps work with liquids?
We offer the V/P250 series of pumps that are developed for liquids. However, all Xavitech pumps can pump liquids if needed. Please contact us to discuss liquid applications and which pump is best for your needs.
Can the pump be controlled with PWM?
No,  Xavitech pumps need a fixed DC voltage. They can however be controlled via serial commands or analog voltage on the IOX-line. If the pump needs to be controlled in some other way, for example a PWM signal on the IOX-line, we can provide custom firmware to accommodate that. Contact us for more information.
At which voltages can the pump run?
Pumps are normally calibrated to run at 5, 12 or 24 volts. Xavitech offers custom calibration for almost any voltage in the span 5-24 volts for X1500 and X200 pumps and 5-12 volts for V100 pumps. In certain instances, depending on exact needs in terms of performance, pumps can be calibrated to run at under 5 volts. Please contact us for more information.
What makes Xavitech pumps intelligent?
In contrast to most other pumps, Xavitech pumps have built-in electronics. This enables the ability to controlthe pump via serial interface, to get feedback from the pump and the use of custom fi rmware to enable evenmore functions. Examples of smart/intelligent features: Pressure change detection, voltage variation compensation, programmable maximum vacuum/pressure. Discover more about smart features and customization.
Do the pumps have built-in flow and pressure sensors?
No, there are no actual sensors built in. However, the pumps can be configured to, in some instances, replace external sensors. For example, the maximum pressure/vacuum can be set at calibration to a specific value, the pump can be configured to compensate for voltage variation and the pump can be configured to detect system pressure changes. Discover more about smart features and customization.