SiC UV Photodiodes / Photodetectors / Detectors
Silicon carbide  SiC  photodetectors / photodiodes have a spectral response of approximately 210 – 380 nm and are not sensitive to UV radiation outside this region. This makes them ideal detectors in certain applications for monitoring the UV spectrum without the need for solar rejection filters. SiC photodetectors are extremely durable and have been proven to withstand prolonged UV exposure in production quantities in many applications.
SiC vs Si & GaP Aging Performance
No other detector material (e.g. Si, Ti02, GaN or diamond) can offer the unique advantages of IFW's silicon carbide detectors (SiC) in UV-applications:
intrinsic spectral response is limited to the range of 200 – 400nm and no additional blocking of unwanted visual and IR-range of radiation is necessary
proven outstanding long term stability under high doses of UV-C- radiation (up to 1000Wm-2)
excellent temperature stability, (temperature coefficient Tk<-0,06%/K), stable long term operation of up to +150°C
Silicon carbide SiC photodiodes / photodetectors are offered in TO-18 and TO-5 packages with or without integrated filters for UVA, UVB, UVC, UVBC and UVBC2. Hybrid units with integrated amplifiers are also available.
To avoid damaging photodiodes during soldering and cleaning, consider using sockets.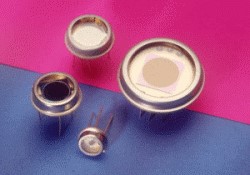 SiC photodiodes features & types
High responsivity – 0.13 A/W peak
UV radiation hardness
Cost effective standard sizes
Low temperature coefficient
Built in Preamplifiers optional
UV A, B, C, BC & BC2 filters available
Screened detectors with 0% output above 400 nm
Quadrant detector available for beam focus monitoring
Gallium Phosphate (GaP) Detectors with output up to 400 nm
Diffuser lens option available
JIC 119-22 is equivalent to the discontinued Perkin Elmer UV10.T2E.10F and JIC 119-22L to the discontinued UV10.T2E.10L
Applications
Water treatment
Flame detection
Spectroscopy
Food inspection
UVA, UVB, UVC, UVBC & UVBC2 measurement
UV exposure measurement (e.g. erythema)
UV Photodiodes  / Photodetectors Selector
Silicon Carbide – SiC – UV Detectors
Part
Number
Old Part Numbers
Description
Active Area
mm
Spectral
Range - nm
Package
Pin 1 Polarity
JEA 0.05, 0.05S & SS
JEC 0.1,0.1S & SS
Standard TO Packages
0.1
205 - 355
TO 39, 18
& 52
Anode -
JEA 0.1, 0.1S & SS
JEC 0.1,0.1S & SS
Standard TO Packages
0.365 x 0.365
205 - 355
TO 39, 18
& 52
Anode -

JEA 0.1X, 0.1XS & 0.1XSS
Standard TO Packages
0.1
210 - 390
TO 39, 18
& 52
Anode -
JEA 0.25S & SS
JEC 0.3-4S & SS
Standard TO Packages
0.26
205 - 355
TO 18
Anode -
JEA 0.25
JEC 0.3-4
Standard TO Packages
0.26
205 - 355
TO 39
Anode -
JEA 0.25 SMD
SMD Ceramic Package
0.3
210 - 255
SMD Ceramic
JEA 0.25-5 SQ
SQ SMD Ceramic Pkg
0.3
210 - 255
Quartz Window
JEA 1, 1S & 1SS
JEC 1,1S & 1SS
Standard TO Packages
1.0
205 - 355
TO 39, 18
& 52
Anode -
JEA 2, 2S & SS
JEC 1, 1S & 1SS
Standard TO Packages
1.4 x 1.4
205 - 355
TO 39(i), 18(i) & 52(i)
Anode -
JEC 5R
Standard TO Detector
Ø2.525
215 - 360
TO 39
Anode -
JEC 5
Sensor isolated from package
Ø2.525
215 - 360
TO 39
Isolated +
JEA 0.1L
JEC 0.1L
±10° FOV Lens
1.65 x 1.65 effective
205 - 355
TO 39
JEA Anode -
JEAC Isolated +
JEA 0.25L & JEAC 0.25L
JEC 0.3-4L
±10° FOV Lens
5.1 x 5.1 effective
205 - 355
TO-39
JEA Anode -
JEAC Isolated +
Isolated + (Cathode)
JEAC 0.05, 0.1, 0.25, 1, 2
JEC
2 pin cathode isolated from Pkg
205 - 355
TO 39, 18 & 52
Isolated +
JEAC 0.05, 0.1, 0.25, 1, 2 (I, IS, ISSZ)
JEC 0.1, 0.3-4 & 1 I, IS, ISS
3 pin sensor isolated from pkg
205 - 355
TO 39, 18 & 52
Isolated +
Filter Options for JEC 0.1 *, JEC 0.3 * and JEC 1 *
JEA 0.1 A
JEC 0.1A
"A" filter option
0.365 x 0.365
320 - 395
TO 5
Anode -
JEA 0.1 B
JEC 0.1 B
"B" filter option
0.365 x 0.365
265 - 322
JEA 0.1 BC
JEC 0.1 BC
"BC1" filter option
0.365 x 0.365
228 - 322
JEA 0.1 C
JEC 0.1 C
"C" filter option
0.365 x 0.365
225 - 280
JEA 0.1 BS, BC-S, C-S
"B", "BC1" "C" Filters
0.365 x 0.365
Same as above
TO18
JEAC 0.1A, B & C
Same as above
0.365 x 0.365
Same as above
TO 5
Cathode +
JEA 0.25 B, BC, C
JEC 0.3-4 B, BC, C
Same as above
0.266
Same as above
TO 5
Anode -
JEA 2 B, BC, C
JEC 1 B, BC, C
Same as above
1.4 x 1.4
Same as above
TO 5
Anode -
Special Options
JEA ( 0.1, 0.25, 1, 2) SS
JEC (0.1, 0.3-4, 1) SS
Short Cap (3.7 mm H)
0.1 - 0.365x0.365
0.2 - 0.266
2 - 1.4 x 1.4
205 - 355
TO 18
Anode -
JEA ( 0.1, 0.25, 1, 2) SHT
JEC (0.1, 0.3-4, 1) SHT
-25 C to +150 C
0.1 - 0.365x0.365
0.2 - 0.266
2 - 1.4 x 1.4
205 - 355
TO-18
JEA ( 0.1, 0.25, 1, 2) I & IS
Isolated
0.1 - 0.365x0.365
0.2 - 0.266
2 - 1.4 x 1.4
205 - 355
TO39i TO18i
Cathode +
JEA (0.1, 0.25, 1, 2)
ID - Diffuser
JEC (0.1, 0.3-4, 1)
Diffuser Lens
0.1 - 0.365x0.365
0.2 - 0.266
2 - 1.4 x 1.4
205 - 355
TO-39
Anode -
JQA5
Quad - 4 - 1x1 detectors
Ø2.525 +4
215 - 360
TO-39
Anode -
GaP UV Photodiode Detectors
GaP Discontinued
Part Number
Old Chip Size
mm
Replacement
Part Number
Top End Color
500 is Green
445 is Blue
Spectral range
nm
Replacement
Chip Size mm
(Active areas
are different)
JEP 1 & 1-365
EPD-5 &
EPD-5-365-0/2.5
JEP 5 & 5-365
1.2 x 1.2 &
5 x 5
GVGR-T10GD TO-46
GVGR-S11SD SMD
Blue/Green
Blue/Green
300-510
300-510
0.4 x 0.4
0.4 x 0.4
JEP 1 & 1-365
JEP-440/1.4
1.2 x 1.2 &
5 x 5
GVGR-T10GD TO-46
GVGR-S11SD SMD
Blue/Green
Blue/Green
300-510
300-510
0.4 x 0.4
0.4 x 0.4
JEP 11-365
EPD-365-0/3.6
3.3 x 3.3
GVBL-T12GD TO-46
GVBL-S12SD SMD
Blue
Blue
330-445
345-445
0.4 x 0.4
0.4 x 0.4
Erythema Detectors
Part
Number
Description
Active Area
mm
Spectral
Range - nm
Package
Pin 1 Polarity
JEC 0.2E
Erythema Effective
UV - Sun
0.266
See data sheet
TO-5
Anode -
JEC 2 I-DE
Erythema Effective
UV - Sun
1.0 x 1.0
See data sheet
TO-5
Anode -
JEC 2/0.1 I-DE
Erythema UV - Artificial
See data sheet
See data sheet
TO-5
Anode -
HYBRID (Internal Amplifier)
Part
Number
Description
Active Area
mm
Spectral
Range - nm
Package
Pin 1 Polarity
JIC 217
Feedback R = 10MΩ
0.25 x 0.25
210 - 380
TO 5
Cathode +
JIC 218
Feedback R = 100MΩ
0.25 x 0.25
210 - 380
TO 5
Cathode +
JIC 219
Feedback R = 1,000MΩ(1GΩ)
0.25 x 0.25
210 - 380
TO 5
Cathode +
JIC 219-22 (highest gain)
Feedback R = 22GΩ
0.25 x 0.25
210 - 380
TO 5
Cathode +
JIC 229 L
Feedback R = 1,000MΩ(1GΩ)
2.8 x 2.8 effective
210 - 380
TO 5
Cathode +
JIC 219-22L (highest gain)
Feedback R = 22GΩ
2.8 x 2.8 effective
210 - 380
TO 5
Cathode +
JIC 317, 318, 319
15V JIC 11X
0.25 x 0.25
210 - 380
TO 5
Cathode +
JIC 237, 238, 239
See feedback R values above
0.5 x 0.5
210 - 380
TO 5
Cathode +
JIC 249 L & L-1
Feedback R = 1,000MΩ (1GΩ)
3.3 x 3.3 effective
210 - 380
TO 5
Cathode +
JIC 257R, 258R, 259R
See feedback R values above
1.25 x 1.25
210 - 380
TO 5
Anode -
"H" Detectors
Extended Wavelength
All Sizes
210-400+
TO 5
Filter Options for JIC Hybrids
JIC 21X A
JIC 22XB, 22XC, 22XBC*
JIC 21X with a filter
0.25 x 0.25
See filters above
TO 5
Cathode +
JIC 23XA
JIC 24XB, 24XC, 24XBC*
JIC 23X with a filter
0.5 x 0.5
See filters above
TO 5
Cathode +
JIC 25XR A
JIC 26XRB, 26XRC, 26XRBC*
JIC 25X with a filter
1.25 x 1.25
See filters above
TO 5
Anode -
Technical Notes: