Ultraviolet Filters: 200 – 400nm
Wavelength Technology offers competitively priced medium and high volume ultraviolet (UV) filters. These filters are used in a broad range of applications including ultraviolet (UV) monitoring, industrial and power plant gas analysis, flame detection for oil rigs and petrochemical plants, UV curing systems, UV spectroscopy, ozone layer analysis, water purification systems, aircraft avionics and UV detectors.
Wavelength Technology provides:
Ultraviolet (UV) monitoring
Industrial and power plant gas analysis
Flame detection for oil rigs and petrochemical plants
UV curing systems
UV spectroscopy
Ozone layer analysis
Water purification systems
Aircraft avionics
UV detectors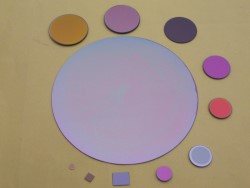 Standard NBP Filters
There are a number of standard Narrow Band Pass (NBP) available from Wavelength Technology.
Filter and Coating Types
Technical Notes
The applications for optical thin film filters are so diversified that filter characteristics are dependent on considerations such as the kind and intensity of the source, detector characteristics, and optical path geometry. Wavelength Technology will assist you in selecting a suitable standard filter or in establishing the specifications for a custom-made filter.