EOC offers a wide variety of high quality "Made in Germany" Laser Diode Modules, High Power Laser Diode Modules and Collimators.
High Power Laser ilumLAS HP
With its integrated thermoelectric cooler, the laser light source ilumLAS HP combines high optical output power with high stability (both optical output power and wavelength). It is available with a large variety of wavelengths from 622 nm to 1850 nm with up to 6.6 W optical output power. The compact housing of 100 mm x 40 mm x 40 mm and the external driver electronics allows an easy integration in your system.
The module provides a collimated beam that is excellent for imaging and machine vision. Line optics are an option for the output.
Features of  ilumLAS HP:
Industrial grade laser modules
High level of stability in power and wavelength
Integrated thermoelectric cooler
Wide operating temperature range
Smart monitoring capabilities
Line and collimated version
ilumLAS HP 622 nm – 1850 nm industrial grade lasers

Green Laser Diode Modules
Applications:
Pilot laser, positioning, marking
Features:
Low voltage supply, optional power setting via analog modulation, optional as point laser or line laser
Dimensions:
Length 40 mm, diameter of point laser 10 mm, diameter of line laser 12 mm​
Adjustable Focus Laser Diodes Modules
Applications:
Positioning, Metrology
Features:
Adjustable focus
Dimensions:
Length 29 mm, Diameter 11 mm
Laser Diode Modules Collimated
Applications:
Positioning, Construction laser applications
Features:
Modulation / Power adjustment via analog input; Standard: 0 – 25 kHz, Optional up to 300 kHz
Dimensions:
Length 40 mm, Diameter 10 mm
Laser Diode Modules Collimated (Small size)
Applications:
Positioning, Light barriers, Construction laser applications
Features:
Small dimension
Dimensions:
Length 20 mm, Diameter 10 mm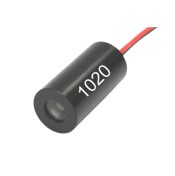 Laser Diode Modules Gaussian Laser Line (Small size)
Applications:
Alignment, Positioning, Construction laser applications, Leveling
Features:
Insulated casing, Modulation / Power adjustment via analog input; Standard: 0 – 25 kHz, Optional up to 300 kHz
Dimensions:
Length 18 mm, Diameter 16 mm
Laser Diode Modules Gaussian Laser Line
Applications:
Alignment, Positioning, Construction laser applications, Leveling
Features:
Insulated casing, Modulation / Power adjustment via analog input; Standard: 0 – 25 kHz, Optional up to 300 kHz
Dimensions:
Length 55 mm, Diameter 12 mm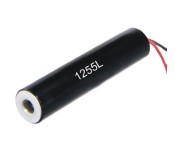 Laser Diode Collimators
Applications:
Construction laser applications, Positioning, Light barriers, Leveling
Dimensions:
Length from 8 mm up to 22 mm, Diameter from 4.2 mm up to 7 mm
​