Spatial Light Modulators (RL-SLM) that use both translucent and reflective liquid crystal micro-display technology to dynamically modify the amplitude and/or phase of incident light.
These spatial light modulators are extremely powerful new optical devices which individually manipulate each pixel in real-time. Not only is it possible to directly connect PC video/graphics to RL-SLMs in the same way as plug-and-play projectors, but users can also program these dynamic optical elements to behave like gratings, lenses, diffractive optical elements, apertures, masks, information processors & encryptors. These spatial light modulators are truly revolutionary devices whose range of applications is only just starting to be explored.
Advantages:
A variety of modulation options:
Phase Only
Amplitude Only
Combined Phase and Amplitude
Patented technology for eliminating the Black-matrix effect and phase calibration
Software base for design of diffractive optical elements (DOE)
Extensive customization available
Compact
Plug-and-play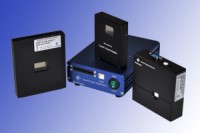 RL-SLM-T3
The RL-SLM-T3 Series modulates the phase of transmitted (polarized) light using translucent liquid-crystal micro-display technology. It works in applications requiring high phase modulating accuracy, compact footprint and fast response time.
Specifications:
| Type | RL-SLM-T3 |
| --- | --- |
| Array Size | 0.63 inch |
| Pixel Pitch | 12.5µm |
| Resolution | 1024 X 768 |
| Fill Factor | 77% |
| Phase Modulation | 0~1.0π |
| Transmittance | 60Hz/75Hz/85Hz |
| Image Frame Rate | 750:01:00 |
| Wavelength Range | 400~700nm |
| Signal Format | HDMI |
| Transmittance | 32.40% |
| Gray level | 256 |
| Work Current | 5V/2A(DC) |
In addition to standard SLM products, additional sales & application support services are available:
Because RL-SLM products allow optical engineers to test proposed diffractive optical element (DOE) designs, the applications team DOE simulation services are available to interested OEM customers.
Customization and modification of RL-SLM's according to customer-specific requirements
Providing accurate gray-level vs. phase look-up tables
Integrating many of the components that work together with RL-SLM's, such as polarizers, collimators, filters and mechanical hardware.
Software
Phase calculation software:
Simulation of diffractive optical elements: The corresponding phase information (DOE) of object is computed by G-S algorithm.
Phase compensating available, eliminating the Black-matrix effect perfectly
With our lens-less diffraction function, optical components are not needed anymore for imaging
The software generates basic optical components such as including apertures, arrays, Fresnel lenses, axicons as well as different kinds of gratings
The software is capable of running most brands of spatial light modulators resolution-adjustable.
Multi-channel control software:
Powerful software that is not only capable of controlling other brands of SLM's, but which also can control up to six independent SLM's simultaneously from one PC.