Electro Optical Components offers high performance pyroelectric and thermopile detectors as well as IR sources.
Detectors that measure radiation by means of the change of temperature of an absorbing material are classified as thermal detectors, often referred to as temperature sensor modules or radiometers. Pyroelectric and thermal detectors respond to any wavelength radiation that is absorbed and can be made to respond over a wide range of wavelengths.
The most common thermal detectors used in the infrared (IR) applications are the pyroelectric and thermopile detectors.
The most sensitive thermopile (higher Detectivity) is made from bismuth-antimony (BiSb) instead of silicon.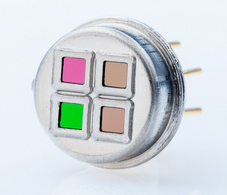 Thermopile detectors are voltage-generating devices, which can be thought of as miniature arrays of thermocouple junctions.
For the temperature sensing market the MTS1 TEMP eco is a lower cost solution.
Micro-Hybrid GmbH is certified to TS 16949:2009 and ISO 9001:2008. These certifications are a reflection of their commitment to quality and product improvement.
Applications include:
Non-contact temperature measurement
Spectrometers
Tympanic thermometers
Gas analysis
Process temperature monitoring
Fire & flame Detection
Household appliances
Explosion detection
Radiometers
Presence monitor
Far Infrared (FIR) detection up to 300

μ

m and beyond
Each channel of the thermopile detector is fitted to the application by using an infrared filter or window. EOC has a broad selection of Standard Filters and Windows for these applications. Custom Filters and windows are also available.
To avoid damaging thermopile detectors during soldering and cleaning, consider using sockets.