These infrared radiation sources are pulsable thermal emitters with a near black-body emittance. They offer:
Patented nanotechnology achieves higher efficiency.
Patented emitter set-up made of a high-melting metal, the free-standing monolithic radiating element and the nanostructured emitter surface.
Lower element temperature of 600°C increases lifetime.
The emitters are:
More stable
Less or no drift
A lot more power
A lot less noise (very important)
All windows are hermetically sealed (Sapphire, CaF2 and BaF2 windows)
Numerous performance advantages are achieved in many applications:
SMD emitters are great for many projects where size and power are issues (portable devices and others).
High power applications (TO39 and TO8 packages) where you can get more power out with the same or less power in.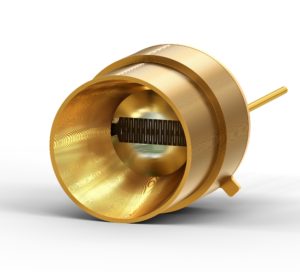 Product
Element
Area
Emissivity
Element
Temp.
Max Optical
Power
Modulation
Frequency
Wavelength
Range
Package
Soldered
Windows
Collimator
Basic Series (with Integrated Reflector)
EOC-IRE-550R
11 mm2
> 0.8
600°C @ 650mW
up to 200mW
4 Hz
2 - 12μm
TO-39/5
EOC-IRE-550R-C
11 mm2
> 0.8
600°C @ 650mW
up to 200mW
4 Hz
2 - 12μm
TO-39/5
Yes
SMD Series
EOC-IRE-20SMD
0.24 mm2
> 0.9
700°C @ 175mW
up to 20mW
10 Hz
2 - 16μm
SMD3
Option
EOC-IRE-100SMD
1mm2
> 0.9
600°C @ 290mW
up to 50mW
7 Hz
2 - 16μm
SMD3
Option
Power Series (with Integrated Reflector)
EOC-IRE-2000R
40 mm2
> 0.9
630°C @ 2.5W
up to 1W
2.5 Hz
2 - 16μm
6mm H
TO-8
EOC-IRE-2000R-6
40 mm2
> 0.9
630°C @ 2.5W
up to 1W
2.5 Hz
2 - 16μm
6mm H
TO-8
Sapphire
EOC-IRE-2000R-9
40 mm2
> 0.9
630°C @ 2.5W
up to 1W
2.5 Hz
2 - 16μm
9mm H
Sapphire
EOC-IRE-2000R-C-BAF
40 mm2
> 0.9
630°C @ 2.5W
up to 1W
2.5 Hz
2 - 16μm
TO-8
BaF2
Yes
EOC-IRE-2000R-C-CAF
40 mm2
> 0.9
630°C @ 2.5W
up to 1W
2.5 Hz
2 - 16μm
TO-8
CaF2
Yes