The Ultimate Low-Noise Current Amplifier
DLPCA-200
Transimpedance Gain from 103 to 1011 V/A
Input Noise Down to 4.3 fA/√Hz
Bandwidth up to 500 kHz
Rise Time down to 700 ns
Bias-Voltage Adjustable
Manual and Remote Control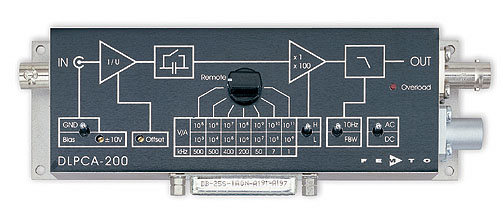 The Ultimate Low-Noise Current Amplifier
Packed with features the DLPCA-200 Variable Gain Transimpedance Amplifier is designed for a wide range of applications that require the conversion of small currents into usable voltages. It is ideally suited, for example, for DC measurements, time resolved measurements down to the μs-region and as the preamplifier for photodiodes or lock-in systems. The DLPCA-200 offers virtually all of the features that can be expected from a high-end current amplifier including selectable transimpedance gain from 103 to 1011 V/A, switchable AC/DC-coupling, adjustable bias-voltage and offset, switchable 10 Hz lowpass filter and the capability of manual and opto-isolated remote control. All this in a rugged, compact EMI-shielded case, designed with the user in mind and built to guarantee trouble-free operation even in very rough and noisy environments.
Bandwidth and Frequency Response independent of Source Capacitance
Unlike similar amplifiers available the DLPCA-200 requires no particular adaptation, such as frequency compensation for different sources. In addition, it provides maximum speed even in high gain settings. At the highest gain setting of 1011 V/A it provides a 3 dB-bandwidth of 1.2 kHz and a 300 ?s rise time. For those applications not requiring the full bandwidth, the unit has a switchable 10 Hz lowpass filter to eliminate wideband noise and thus allowing accurate and ultra low-noise DC current measurements down to femtoAmperes.
Applications for DLPCA-200 Current Amplifier
Photodiode and Photomultiplier Amplifier
Scanning Tunneling Microscopy (STM)
Spectroscopy
Charge Amplifier
Ionization Detectors
Preamplifier for Lock-Ins, A/D-Converters etc.
Low Noise Input/Output Cable: FEMTO CAB-LN1 low noise cable
The LUCI-10 amplifier interface allows remote control of FEMTO amplifiers and photoreceivers with a remote control capability from a standard Windows PC with USB port.
Variable Gain Current Amplifier Comparison
Model
DLPCA-200
Performance Range
Low Noise
High Speed
Transimpedance [V/A]
103
104
105
106
107
108
109
105
106
107
108
109
1010
1011
Bandwidth [- 3 dB] [kHz]
500
500
400
200
50
7
1.1
500
500
400
200
50
7
1.1
Rise Time(10%-90%)
700ns
700ns
900ns
1.8μs
7μs
50μs
300μs
700ns
700ns
900ns
1.8μs
7μs
50μs
300μs
Equ. Input Noise [/Hz1/2]
20 pA
2.3 pA
450 fA
130 fA
43 fA
13 pA
4.3 fA
13 fA
1.8fA
440 fA
130 fA
43 fA
13 fA
4.3 fA
Accuracy Performance
Gain +1 %, Flatness 0.1 dB
Lowpass Filter
Switchable to 10 Hz
Output Performance
+10 V >1MΩ load
BIAS Voltage
Adjustable +10 V, max. 22 mA, Connected to BNC-Shield, switchable to GND
Power Supply
+15 V, +120 mA/-80 mA Typ.
Control Interface
5 Opto-Isolated Digital Inputs, TTL/CMOS compatible, Analog Offset Control Voltage Input
Interface Software Option
LUCI-10 Control Interface Software & Hardware Option
Case
170 x 60 x 45 mm (L x W x H), Weight 320 g (0.74 lbs)
Bandwidth and rise/fall times are independent of detector capacitance up to 1 nF. Offset adjustable by trimpot or external control voltage. LED overload indication. Input protected against +3 kV transients. Output short-circuit protected. Power supply via 3-pin LEMO socket. A mating connector is provided with the device. Optional power supply PS-15 is available. For further information please view the datasheet.