Handheld ilumCURE UV Curing System
The handheld ilumCURE UV Curing System is a portable UV light source for curing UV activated adhesives and coatings. It is in a robust casing designed for field work. Its battery charge lasts 3.5 hours.
The high efficiency LEDs of the ilumCURE cures most adhesives in a few seconds. You can charge the ilumCURE using any available USB port (PC, Laptop, car, etc.).
IlumCURE with Case | ilumCURE without Case
Application Notes:
ilumCURE Operating Instructions
Curing LOCTITE 3493 with iLumCURE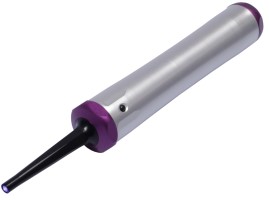 ilumCURE Industrial Curing System
The ilumCURE industrial is a USB Interface controlled LED illumination system for curing of UV adhesives reproducibly with high intensity at a wavelength from 365 nm to 440 nm. In automated manufacturing processes up to 100+ ilumCURE devices can be controlled individually from a single PC to perform individual or wide area exposures with adjustable intensity and duration.
The operating states of the devices can be monitored remotely to detect issues within automated production. Reproducible hardening processes are ensured by a controller-operated LED current measurement and by overheat recognition. The devices are robust with aluminum housing, thermal management and electronic surge protection.
ilumCURE Industrial Series are customizable to your existing production environments. The provided Software Development Kit allows easy integration of the devices functionalities into your process-specific automation programs.