Si and InGaAs Photodiodes
Wavelength Range from 400 to 1700 nm
Bandwidth from DC to 400 kHz
Max. Conversion Gain 107 V/W
Min. NEP 75 fW/√Hz
A New Family of Photoreceivers
By combining state of the art Si and InGaAs photodiodes with the proven and outstanding FEMTO LCA Current Amplifier technology we designed a new family of photoreceivers with a remarkable performance. The LCA-S-400K is available with either a large area Si or InGaAs photodiode covering a spectral range from 400 to 1050 nm and 900 to 1700 nm, respectively. The amplifier transimpedance is 107 V/A resulting in a maximum conversion gain of 9.5 x 106 V/W at 1550 nm for the InGaAs model. Due to the low noise performance of the transimpedance amplifier the minimum NEP is as low as 75 fW/√Hz which allows for detection of optical signals in the nanoWatt range without further averaging.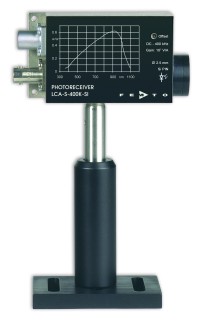 Applications
Spectroscopy
General Purpose opto-electronic measurements
Optical Front-End for Oscilloscopes, A/D Converters and Lock-In Amplifiers
Photoreceivers – Low Noise
Model
LCA-S-400K-SI
LCA-S-400K-IN
Spectral Range
400 ... 1100 nm
900 ... 1700 nm
Bandwidth
DC ... 400 kHz
DC ... 400 kHz
Rise/Fall Time (10% - 90%)
1 µs
1 µs
Transimpedance Gain
1 x 107 V/A
1 x 107 V/A
Max. Conversion Gain
6.2 x 106 V/W
(@ 900 nm)
9.5 x 106 V/W
(@ 1550 nm)
Min NEP (@ 10 kHz)
130 fW/√Hz (@ 900 nm)
75 fW/√Hz (@ 1550 nm)
Saturation Power
1.6  μW  (@ 900 nm)
1  μW  (@ 1550 nm)
Detector
Si PIN, Ø2.5 mm
InGaAs PIN, 0.5 mm Ømin
Input
Free Space, 25 mm Ø Flange
Output
BNC
Output Voltage Range
± 10 V @ > 1 MΩ Load
Power Requirements
± 15 V, + 15 mA Typ.
CAB-LN1 Low Noise Input/Output Cable available.

Threaded M4 and 8-32 holes for mounting on standard posts. 25 mm Ø flange compatible with microbench systems. Offset adjustable by trimpot. Fiber optic input optional. Output short-circuit protected. Power supply via 3-pin LEMO socket. A mating connector is provided with the device.  Optional power supply PS-15 is available. For further information please view the datasheet.
FEMTO Product Catalog