Fast Optical Power Meters
OE-200
Adjustable Conversion Gain from 103 to 1011 V/W
Equ. Input Noise down to 10 fW/√Hz
Bandwidth up to 500 kHz
Rise Time down to 700 ns
Calibration Traceable to NIST Standards
Signal Filters
Manual and Remote Control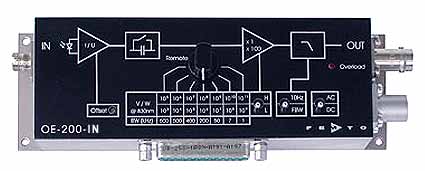 The Ultimate High-Speed Power Meter
The OE-200 Adjustable-Gain Photoreceiver is designed for a wide range of applications that require the fast measurement of low light levels. With its maximum bandwidth of 500 kHz it is ideally suited for time resolved measurements down to the sub μs-region, as fast photo detector in industrial process control and quality inspection systems and as the optical front-end for lock-in amplifier systems. The OE-200 offers many more features than usual power meters including selectable conversion gain from 103 to 1011 V/W, switchable AC/DC-coupling, and the capability of manual and opto-isolated remote control by a PC.
Exceptional Performance also in Low-Speed and Low Light Level Applications
Besides the use in high speed applications the OE-200 also shows top performance when it comes to the measurement of slow varying, continuous wave (cw) or low light level signals. The low-noise multi-stage amplifier design and the switchable 10 Hz lowpass filter allows the precise measurements of low optical powers down to the 100 fW range without the need for further averaging.
Calibration Traceable to NIST Standards
Fiber Alignment Systems
Fast Power Monitoring
Test of Laser-Diode to Fiber Coupling
Linearity Measurements over 10 Decades
Calibration of Optical Communication Systems
Time-resolved Pulse and Power Measurements
Fast Optical Power Meters
Model
OE-200-SI
OE-200-UV
OE-200-IN1
OE-200-IN2
Spectral Range
320-1060 nm
190-1000 nm
900-1700 nm
900-1700 nm
Calibrated Wavelength
830nm
830 nm
1300 nm
1550 nm
Max Bandwidth [- 3 dB]
DC ... 500 kHz
DC ... 500 kHz
DC ... 500 kHz
DC ... 500 kHz
Rise Time(10%-90%)
700 ns
700 ns
700 ns
700 ns
Conversion Gain Range
103 - 1011 V/W
103 - 1011 V/W
103 - 1011 V/W
103 - 1011 V/W
Min NEP
10 fW/√Hz
17 fW/√Hz
8 fW/√Hz
7 fW/√Hz
Optical Power Input Range
ca. 100 fW ... 2 mW
ca. 200 fW ... 2 mW
ca. 100 fW ... 2 mW
ca. 100 fW ... 2 mW
Detector
Si-PIN
Ø 1.2mm
Si-PIN
1.1 x 1.1mm2
InGaAs-PIN
Ø 0.3mm
InGaAs-PIN
Ø 0.3mm
Input
Free Space, FC, SMA
Free Space, FC, SMA
Free Space, FC
Free Space, FC
Output
BNC
Output Voltage Range
±10 V > @ 1 MΩ load
Accuracy
± 1 % Electrical, ± 5 % Electro Optical for Fiber Optic Models,
± 15 % Electro Optical for Free Space Models
Lowpass Filter
Switchable to 10 Hz
Power Requirements
±15 V, +150 mA/-100 mA Typ.
Control Interface
5 opto-isolated digital Inputs, TTL/CMOS compatible,
Analog Offset Control Voltage Input
Interface Software Option
LUCI-10 Control Interface Software and Hardware option
Case
170 x 60 x 45 mm (L x W x H), Weight 320 g (0.74 lbs)
Offset adjustable by trimpot or external control voltage. LED overload indication. Output short-circuit protected. Power supply via 3-pin LEMO socket. A mating connector is provided with the device. Optional power supply PS-15 is available. For further information please view the datasheet.
The following characteristics are valid for all versions:
Performance Range
Low Noise
High Speed
Conversion [V/W]
103
104
105
106
107
108
109
105
106
107
108
109
1010
1011
Bandwidth [- 3 dB] [kHz]
500
500
400
200
45
7
1.2
500
500
400
200
45
7
1.2
Rise Time(10%-90%)
700ns
700ns
900ns
1.8μs
8μs
50μs
300μs
700ns
700ns
900ns
1.8μs
8μs
50μs
300μs
FEMTO Product Catalog