Ultra-Fast Photoreceivers
Series HSA-X-S
Si and InGaAs Photodiodes
Wavelength Range from 320 to 1700 nm
Bandwidth from 10 kHz up to 2 GHz
Max. Conversion Gain 4.8 x 103 V/W
Min. NEP approx. 14 pW/√Hz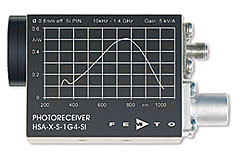 Ultra fast photoreceivers with FEMTO's GHz Technology
By combining state of the art photodiodes with the proven and outstanding FEMTO GHz amplifier technology we designed a new family of photoreceivers with a remarkable performance. The HSA-X-S offers an upper bandwidth limit of 2 GHz. Two models with either a fast Si or InGaAs photodiode cover a spectral range from 320 to 1000 nm and 850 to 1700 nm, respectively. Due to the sophisticated amplifier design the minimum NEP is just 14 pW/√Hz at a transimpedance of 5 x 103 V/A. This allows for the measurement of optical power levels in the ?W range with GHz speed. For the HSA-X-S-1G4-SI with silicon photodiode the effective active diameter is a remarkably large 0.8 mm due to the use of a ball lens in front of the detector chip.
Applications:
Spectroscopy
Fast Pulse and Transient Measurements
Optical Triggering
Optical Front-End for Oscilloscopes and A/D Converters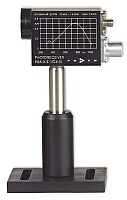 Ultra-Fast Photoreceivers
Model
HSPR-X-I-1G4-SI
HSA-X-S-1G4-SI
HSPR-X-I-2G-IN
HSA-X-S-2G-IN
Spectral Range
320 ... 1000 nm
900 ... 1700 nm
Bandwidth
10 kHz ... 1.4 GHz
10 kHz ... 2 GHz
Photodiode
0.8 mm Øeff. Si PIN
0.2 mm Ø InGaAs PIN
Rise/Fall Time (10% - 90%)
250 ps
180 ps
Transimpedance Gain
5 x 103 V/A (inverting)
5 x 103 V/A (inverting)
Max. Conversion Gain
2.5 x 103 V/W (@ 760 nm)
4.8 x 103 V/W (@ 1550 nm)
Min NEP
26 pW/√Hz (@ 760 nm)
14 pW/√Hz (@ 1550 nm)
Threaded M4 and 8-32 for mounting on standard posts. 25mm Ø flange compatible with microbench systems. Model with fiber optic input or DC monitor output optionally available. Output short-circuit protected. Power supply via 3-pin LEMO socket. A mating connector is provided with the device.  Optional power supply PS-15 is available. For further information please view the datasheet.
HSA-X Series Model Update
Characteristics of the New Models
inverting
better output matching coefficient S22
smaller 1/f noise → lower broadband noise at the output
Remark: Bandwidth is unchanged (limited by the photodiode)
Part Number Naming Convention:
HSPR
X
I
1G4 or 2G
SI or IN
FC
FS
High Speed Photoreceiver. This acronym replaces "HSA-X-S" which did not yet refer to photoreceivers.
X differentiation to the HSA-Y series
I inverting (positive input voltage → negative output voltage)
1G4 or 2G Bandwidth 1, 4 GHz respectively min. 2 GHz
SI or IN Si respectively InGaAs photodiode
FC optical connector: Fiber Connector
FS optical connector: Free Space