The electro-optic deflector makes an ideal Q-switch for compact, low average power systems. Polarizers are not required and the optical loss can be kept to below 1%.
The ability to deflect in a few nanoseconds allows short Q-switch pulses to be produced and high repetition rates obtained.
The 1 mm aperture deflector has been successfully used to Q-switch a micro-chip laser at 20kHz while producing 1.5 ns pulse lengths.
Leysop can supply the deflector with a miniaturized 1kV driver operating between 0 – 20 kHz. The Q-switch is not liquid filled and does not require accurate alignment.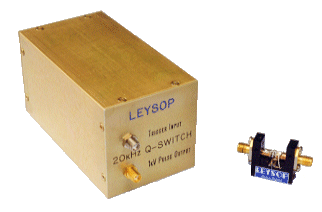 Deflector Specification
| Aperture | 1mm | 2mm | 3mm |
| --- | --- | --- | --- |
| Deflector length | 11m | 20mm | 25mm |
| Deflection angle for 1kV drive | 5mrad | 3mrad | 1.5mrad |
| Optical loss ar/ar at 1.06mm | < 1% | < 1% | < 1% |
| Dimensions (mm, excluding connections) | 25 x 25 x 11 | 20 x 20 x 31 | 20 x 20 x 31 |
| Connector | SMA | SMA | SMA |
| Capacitance | 50pF | 50pF | 50pF |
| Switching Speed | Driver limited | Driver limited | Driver limited |
Solid State 20kHz Driver Specification
| | |
| --- | --- |
| Power Input | +9V or +12V @ 0.7A D.C. |
| Output | +900V pulse |
| Nominal Pulse Length | 20 - 100ns, internally adjustable |
| Rise Time into 50pF Capacitor | <10ns |
| Trigger Input | 2 - 5V with 10ns rise time into 50 Ω |
| Repetition Rate | 0 - 20kHz |
| Dimensions | 60 x 60 x 110mm |
| Connectors: Output & Trig. in | SMA |
| Cable length between Pulser and Deflector | 500mm max. |