Optical Infrared Interference Filters
IR Filters: 1.5 – 20 
μ

m
Temperature Effects
The CWL of an interference filter shifts with variations in temperature due to thermal expansion and contraction of the materials used in the construction. This shift is very small and can usually be ignored for filters operating in a normal temperature environment. In general the filter characteristics shift to longer wavelengths with increasing temperature (positive temperature coefficient), but some filters manufactured by NOC use evaporation materials which have a negative temperature coefficient and hence exhibit a shift to shorter wavelengths with increasing temperature.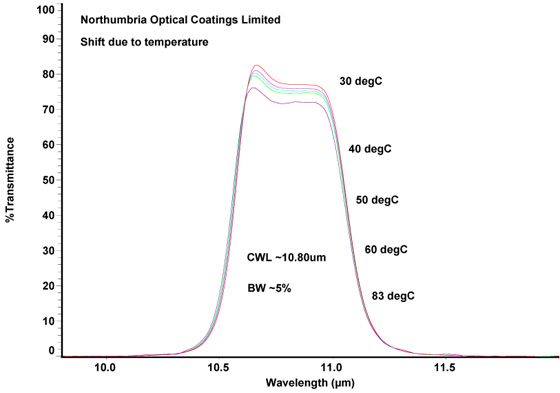 Cryogenic Temperatures
When cycled, or used between ambient and cryogenic temperatures, optical coatings can sometimes be subjected to severe mechanical stress. NOC manufacture filters specifically for use at low temperatures by using production techniques which increases coating adhesion and ensures successful operation at these low temperatures. Each filter and/or witness piece is cyclically tested between 300K and 77K before despatch.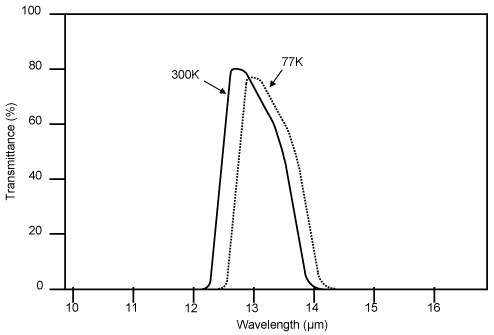 Northumbria Optical Coatings Ltd (NOC) was established in 1995, specializing in the design and manufacture of Infrared Optical Filters and Coatings, covering the spectral range 1.5μm – 20.0μm. Before 1995 NOC operated as a business unit for Rolls Royce International Research & Development based in Newcastle upon Tyne. NOC offers competitively priced standard and non-standard filters which are used in many applications including environmental monitoring, analysis and control of gaseous effluent, analysis of vehicle exhaust gases, ozone layer monitoring, night vision systems and space applications. Contact EOC for more information.