Variety of fiber probes coupling with any FTIR spectrometer
Compatible or customized for FTIR sample chamber or external port
Mirror optics for broad spectral range
SMA-terminated in/out ports for any fiber probe with SMA-connectors
Pre-aligned for distinct FTIR-models or adjustable to optimize coupling
FlexiSpec® fiber optic probes can be coupled with any FTIR spectrometer by standard fiber coupler produced by manufacturers of FTIR spectrometers and FTIR accessories. art photonics can provide customized fiber couplers / launches for various FTIR- models – with or without sample chamber. TIR coupling with FlexiSpec®
Applications:
Easy coupling of any fiber probe to any FTIR spectrometer – to enable in-line applications
Upgrade of lab FTIR-models to remote process-spectroscopy
Can be used as any other accessories in sample chamber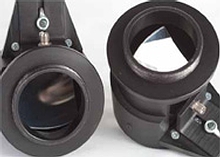 IFC1 – Fiber Coupler
Designed for different fiber probes, iFC1 coupler connects them with FTIR-spectrometer iS5 from Thermo Fisher using iD1 accessories platform. Mirror optics covers a broad spectral range and adjustable for SMA-terminated input/output ports.


FiberMate-2®
From Harrick Scientific Inc. Equipped with large ellipsoidal mirrors, the FiberMate2® efficiently couples fiber probe with different models of FTIR-spectrometers. The FiberMate2® utilizes mirror optics coupled to two SMA connectors. It is equipped with PermaPurge® to maintain the system purge.
FT-FiberSpec
Dual mirror fiber coupler
Two identical mirror couplers are designed to focus FTIRbeam to fiber probe input or refocus it from the probe output to FTIR-detector. Can be installed directly at sample chamber windows, at external FTIR port or be fixed with a customized holder inside sample chamber. Mirror optics covers a broad spectral range and can be adjusted to SMAconnector position to maximize coupling efficiency. Mirrors can rotate around beam axis for convenient probe connection to FTIR at any angle.