IBSG Co. Ltd. was founded by several leading researchers from the Ioffe Physico-Technical Institute in 1992 and specialized in developing and manufacturing of optoelectronic devices for mid-infrared spectral range. They provide the complete technological cycle including heterostructure growth using liquid phase epitaxy (LPE) and metalorganic chemical vapor deposition (MOCVD), photolithography, assembling, characteristics testing and producing of related electronic devices.
IBSG produces the full line of light emitting diodes, laser diodes and photodiodes for mid-infrared spectral range 1600-5000 nm. In addition to a wide range of standard products they offer custom designed solutions for different purposes. You can find use of IBSG products in detection systems for ecological monitoring, on-line technological process control, medical diagnostic and many other applications.
IBSG Light Emitting Diodes are designed for emitting in the mid-infrared (Mid-IR) spectrum from 1800nm to 4600nm. Heterostructures (HS) are grown on Gallium Antimonide (GaSb) or Indium Arsenide (InAs) substrates. The output emission is typically modulated at 2KHz with pulse lengths as short as 1?s.
These Light Emitting Diodes are for use in optical gas sensors and medical diagnostics. They have stable output power and a lifetime of more than 10,000 hours.
IBSG standard LED Driver provides power supply in two recommended regimes (Quasi-CW and Pulsed).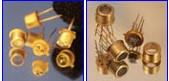 IBSG Mid-IR LEDs Selector
Part
Number
Wavelength
nm
FWHM
nm
Substrate
Emitter
Area
µm
Optical
Power
µW
Switching
time
ns
Reflector
Window
TE
Cooler
Package
LED15-FC / -PR / -PRW
1520-1640
120
GaSb
770x670
0.9 / 20
30
Option
Option
Flip Chip
TO-18
LED16-FC / -PR / -PRW
1600-1690
100
GaSb
770x670
1.4 / 28
30
Option
Option
Flip Chip
TO-18
LED17-FC / -PR / -PRW
1700-1790
120
GaSb
770x670
1.4 / 28
30
Option
Option
Flip Chip
TO-18
LED18
1800-1890
200
GaSb
400x400
0.9/20
30
Option
TO-18
LED18-PR-PRW
1800-1890
200
GaSb
400x400
0.9/20
30
Yes
Option
TO-18
LED18-TEC / -TEC-PR
1800-1890
200
GaSb
400x400
0.9/20
30
Yes
Option
Yes
TO-5
LED18-FC / -PR / -PRW
1800-1890
200
GaSb
770x670
1.1/25
30
Option
Option
Flip Chip
TO-18
LED19
1900-1990
200
GaSb
400x400
1.0/25
30
Option
TO-18
LED19-PR/-PRW
1900-1990
200
GaSb
400x400
1.0/25
30
Yes
Option
TO-18
LED19-TEC / -TEC-PR
1900-1990
200
GaSb
400x400
1.0/25
30
Yes
Option
Yes
TO-5
LED19-FC / -PR / -PRW
1900-1990
200
GaSb
770X670
1.2 / 28
30
Option
Option
Flip Chip
TO-18
LED20
2000-2090
200
GaSb
400x400
1.1/25
30
Option
TO-18
LED20-PR/-PRW
2000-2090
200
GaSb
400x400
1.1/25
30
Yes
Option
TO-18
LED20-TEC / -TEC-PR
2000-2090
200
GaSb
400x400
1.1/25
30
Yes
Option
Yes
TO-5
LED20-FC / -PR / -PRW
2000-2090
200
GaSb
770x670
1.4/28
30
Option
Option
Flip Chip
TO-18
LED21
2100-2190
200
GaSb
400x400
1.0/25
30
Option
TO-18
LED21-PR/-PRW
2100-2190
200
GaSb
400x400
1.0/25
30
Yes
Option
TO-18
LED21-TEC / -TEC-PR
2100-2190
200
GaSb
400x400
1.0/25
30
Yes
Option
Yes
To-5
LED21-FC / -PR / -PRW
2100-2190
200
GaSb
770x670
1.7/30
30
Option
Option
Flip Chip
TO-18
LED22
2200-2290
200
GaSb
400x400
1.0/20
30
Option
TO-18
LED22-PR/-PRW
2200-2290
200
GaSb
400x400
1.0/20
30
Yes
Option
TO-18
LED22-TEC / -TEC-PR
2200-2290
200
GaSb
400x400
1.0/20
30
Yes
Option
Yes
TO-5
LED22-FC / -PR / -PRW
2200-2290
200
GaSb
770x670
1.7/30
30
Option
Option
Flip Chip
TO-18
LED23
2300-2390
220
GaSb
400x400
0.8/16
30
Option
TO-18
LED23-PR/-PRW
2300-2390
220
GaSb
400x400
0.8/16
30
Yes
Option
TO-18
LED23-TEC / -TEC-PR
2300-2390
220
GaSb
400x400
0.8/16
30
Yes
Option
Yes
TO-5
LED23-FC / -PR / -PRW
2300-2390
220
GaSb
770x670
1.1/25
30
Option
Option
Flip Chip
TO-18
LED29
2800-3000
700
InAs
400x400
8.0/150
30
Option
TO-18
LED29-PR/-PRW
2800-3000
700
InAs
400x400
8.0/150
30
Yes
Option
TO-18
LED29-TEC / -TEC-PR
2800-3000
700
InAs
400x400
8.0/150
30
Yes
Option
Yes
TO-5
LED31
3000-3200
700
InAs
400x400
14/200
30
Option
TO-18
LED31-PR/-PRW
3000-3200
700
InAs
400x400
14/200
30
Yes
Option
TO-18
LED31-TEC / -TEC-PR
3000-3200
700
InAs
400x400
14/200
30
Yes
Option
Yes
TO-5
LED34
3300-3500
700
InAs
400x400
24/400
30
Option
TO-18
LED34-PR/-PRW
3300-3500
700
InAs
400x400
24/400
30
Yes
Option
TO-18
LED34-TEC / -TEC-PR
3300-3500
700
InAs
400x400
24/400
30
Yes
Option
Yes
TO-5
LED36
3500-3700
700
InAs
400x400
16/200
30
Option
TO-18
LED36-PR/-PRW
3500-3700
700
InAs
400x400
16/200
30
Yes
Option
TO-18
LED36-TEC / -TEC-PR
3500-3700
700
InAs
400x400
16/200
30
Yes
Option
Yes
TO-5
LED37
3600-3800
700
InAs
400x400
16/200
30
Option
TO-18
LED37-PR/-PRW
3600-3800
700
InAs
400x400
16/200
30
Yes
Option
TO-18
LED37-TEC -TEC-PR
3600-3800
700
InAs
400x400
16/200
30
Yes
Option
Yes
TO-5
LED38
3700-3900
700
InAs
400x400
16/200
30
Option
TO-18
LED38-PR/-PRW
3700-3900
700
InAs
400x400
16/200
30
Yes
Option
TO-18
LED38-TEC / -TEC-PR
3700-3900
700
InAs
400x400
16/200
30
Yes
Option
Yes
TO-5
LED39
3800-4000
700
InAs
400x400
16/200
30
Option
TO-18
LED39-PR/PRW
3800-4000
700
InAs
400x400
16/200
30
Yes
Option
TO-18
LED39-TEC -TEC-PR
3800-4000
700
InAs
400x400
16/200
30
Yes
Option
Yes
TO-5
LED41
4000-4200
700
InAs
400x400
16/200
30
Option
TO-18
LED41-PR/-PRW
4000-4200
700
InAs
400x400
16/200
30
Yes
Option
TO-18
LED41-TEC -TEC-PR
4000-4200
700
InAs
400x400
16/200
30
Yes
Option
Yes
TO-5
LED43
4100-4300
900
InAs
400x400
10/200
30
Option
TO-18
LED43-PR -PRW
4100-4300
900
InAs
400x400
10/200
30
Yes
Option
TO-18
LED43-TEC / -TEC-PR
4100-4300
900
InAs
400x400
10/200
30
Yes
Option
Yes
TO-5
LED46
4400-4600
1100
InAs
400x400
6/120
30
Option
TO-18
LED46-PR / -PRW
4400-4600
1100
InAs
400x400
6/120
30
Yes
Option
TO-18
LED46-TEC / -TEC-PR
4400-4600
1100
InAs
400x400
6/120
30
Yes
Option
Yes
TO-5
LED15-FC / -PR / -PRW
All
LED Arrays
Custom
Multiole LEDs can be combined in one package to cover different spectrum
TO-5 & TO-8
IBSG LED Drivers