These retardation plates use high optical damage threshold crystal quartz. They are orientated with the optic axis in the plane of the plate and light polarized at 45° to the quartz optic axis is resolved into two equal amplitude components that suffer a relative phase retardation due to their different propagating velocities.
Most low order plates lie in a thickness range of 100-200μm (At 1.06μm a first order λ/2 plate is approximately 182 μm thick). Low order plates are generally used because they are relatively temperature insensitive compared to high multiple order plates. They are also less sensitive to axial misalignment.
Retardation plates can be supplied mounted or unmounted with or without A.R. coatings.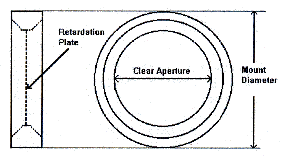 Specifications
Material
Crystal Quartz
Surface Quality
20 - 10
Diameter Tolerance
+0.00mm - 0.1mm
Retardation Tolerance
l/250
Damage Threshold
> 1 GW/cm2 nanosecond pulse length at 1064 nm
Max cw Power
>200W/cm2
Transmission Uncoated
92%
Spectral Range
220 - 2800 nm
Standard Sizes
Type
Clear Aperture
Mount Dia.
QWP 10
10mm
25mm
QWP 20
20mm
25mm
QWP 25
25mm
35mm
QWP 30
30mm
40mm
Low order Half and Quarter wave plates having the above dimensions are held in stock and can be supplied coated or uncoated. They are generally available from stock for most common laser wavelengths. All waveplates can be supplied mounted or unmounted. Other dimensions can also be supplied.
Dual Wavelength Plates
For a given plate thickness a low order waveplate will operate as a quaterwave, halfwave and full wave plate at different wavelengths. By selecting the thickness it is possible to achieve a dual order plate giving for example, halfwave retardation at 1064 nm and fullwave retardation at 532 nm. Because of the wide range of possibilities these plates are not held in stock, but Leysop can manufacture plates to customer requirements.
Quartz Optical Rotators
When plane polarized light propagates along the optic axis of quartz, it is rotated clockwise or anticlockwise depending on whether it is right or left hand quartz. The rotation is dependent on the wavelength and the distance traveled, as shown below.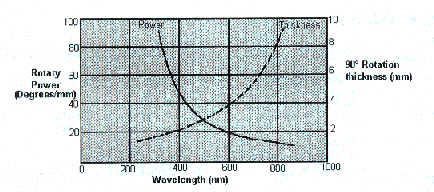 Specific Rotary Power
Quartz rotators can be supplied to give 90° rotation or any angle between 0-90°. They are ordered as standard components with the same aperture and mount dimensions as those shown for retardation plates but by using the suffix, QOR.