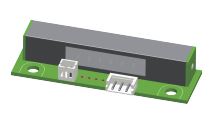 Small, Low Cost & Reliable CO2 Sensor Modules
Electro Optical Components introduces the smallest low cost CO2 NDIR sensor module for gas detection applications including indoor air monitoring, agriculture etc. and a metal housed version for automotive.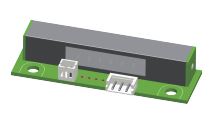 The EOC-GDM-CO2-IR300 is a NDIR CO2 gas module has a precision light chamber, state of the art electronics and intelligent software. With the help of single light source, dual channel detector, and microprocessor, EOC-GDM-CO2-IR300 can perform the gas concentration signal in different ways.  In this product, temperature compensation is included as well as firmware to null out any nonlinearity. It has all the advantages of NDIR gas detection including good selectivity, high sensitivity, long life and independence from O2 interference.
 The EOC-GDM-CO2-PCL0A is the smallest and lowest cost version.
For transportation applications (automotive) the EOC-GDM-CO2-ZM200 is the answer. With its metal housing it can operate from -40°C to +85°C.
These low cost NDIR CO2 modules are available from:
Electro Optical Components Inc.
Toll Free:  (855) 362-6300 | (707) 568-1642
info@eoc-inc.com | www.eoc-inc.com