Variable Gain Ultra Low Noise Current Amplifier
DDPCA-300
0.4 fA peak-peak noise
Very high dynamic range: Sub-fA to 1 mA (>240 dB)
Transimpedance (Gain) switchable from 1 x 104 to 1 x 1013 V/A
Bandwidth up to 450 Hz, Rise Time down to 0.8 ms – Independent of Source Capacitance (up to 10nF)
Adjustable Bias-Voltage on Input Relative to Ground
Compact Housing for use close to the signal source
Protection against +2kV transients
Local and Remote Control
East to use: Convert your standard digital voltmeter or DAQ Board to a high-end Digital Sub-Femotamperemeter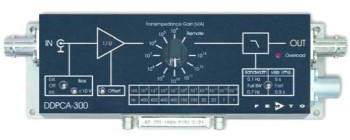 Applications:
Photodetector amplifier
I/V characterization of small MOS structures
DC measurements of ultra low currents
Ionization detectors, mass spectrometry, quantum and biotech experiments
Spectroscopy
High resistance measurements
Low Noise Input/Output Cable: CAB-LN1 Low Noise Cable
The LUCI-10 amplifier interface allows remote control of FEMTO amplifiers and photoreceivers with a remote control capability from a standard Windows PC with USB port.
Variable Gain Current Amplifier Comparison
Model
DDPCA-300
Performance Range
Performance Depending on Gain Setting
Transimpedance [V/A]
104
105
106
107
108
109
1010
1011
1012
1013
Bandwidth [- 3 dB] [kHz]
400
400
400
400
150
150
20
20
1
1
Rise Time(10%-90%)
0.8ms
0.8ms
0.8ms
0.8ms
2.3ms
2.3ms
17ms
17ms
350ms
350 ms
Equ. Input Noise [/Hz1/2]
45 pA
45 pA
0.45 pA
0.45 pA
15 fA
15 fA
1.3 fA
1.3 fA
0.2 fA
0.2 fA
Lowpass Filter
Switchable to 0.1 Hz, 0.7 Hz or Full Bandwidth
Output Performance
±10 V (@ ≥1MΩ load)
BIAS Voltage
±10 V, Adjustable by Trimpot or External Control Voltage, max. 10 mA, Connected to Center Pin of BNC Input Socket
Power Supply
±15 V, +70 mA/-15 mA Typ.
Control Interface
4 Opto-Isolated Digital Inputs, TTL/CMOS compatible, Analog Bias Control Voltage Input
Interface Software Option
LUCI-10 Control Interface Software & Hardware Option
Case
170 x 60 x 45 mm (L x W x H), Weight 320 g (0.74 lbs)
Offset adjustable by trimpot. LED overload indication. Input protected against ±2 kV transients. Output short-circuit protected. Power supply via 3-pin LEMO socket. A mating connector is provided with the device. Optional power supply PS-15 is available. For further information please view the datasheet.