This optical attenuator can be used at wavelengths between 0.35-2.0μm. Maximum continuous rating is 200W/cm2 and peak power handling is up to 500MW/cm2 for q-switched pulses. If the attenuator is used with plane polarized light the maximum transmission is 90% and with unpolarized light the maximum transmission is 40%.
The input polarizer is rotated through 90o and energy in the side exit beam is dumped onto a light absorbing block. If required the block can be removed and the side exit beam allowed to leave the attenuator.
The new design gives you the following improvements:
The new rotation mounts are much smoother to adjust.
Easier readout of the position because of the better indexing ring.
Much smaller than the old unit.
Has the flexibility of being able to be pin-mounted (like the old unit) or incorporated into a Thorlabs 30mm cage system.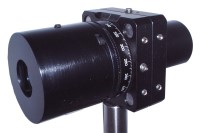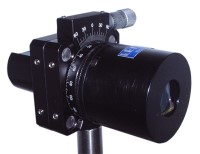 Glan-Taylor Polarizers Product Specification
Polarizer Model
GT 10
GT 12
GT 15
GT 18
GT 20
GT 25
GT 30
Nominal Aperture (mm)
10
12
15
18
20
25
30
Clear Aperture (mm)
9
11
14
17
19
24
29
Width (un-mounted, mm)
12
14
17
20
22
27
32
Height (un-mounted, mm)
10
12
15
18
20
25
30
Length (mm, ±1mm)
11
15
18
21
24
Transmission Range
0.2 - 2.5μm
0.2 - 2.5μm
0.2 - 2.5μm
0.2 - 2.5μm
0.2 - 2.5μm
0.2 - 2.5μm
0.2 - 2.5μm
Extinction Ratio
10-5
10-5
10-5
10-6
10-6
10-6
10-6
Transmission Un-Coated
~88%
~88%
~88%
~88%
~88%
~88%
~88%
Peak Transmission Coated
~94%
~94%
~94%
~94%
~94%
~94%
~94%
Maximum Beam Deviation
3 min
3 min
3 min
2 min
2 min
2 min
2 min
Maximum Optical Power
Pulsed (polished side exit)
300MWcm-2 for <10ns pulse
300MWcm-2 for <10ns pulse regime
300MWcm-2 for <10ns pulse regime
300MWcm-2 for <10ns pulse regime
300MWcm-2 for <10ns pulse regime
300MWcm-2 for <10ns pulse regime
300MWcm-2 for <10ns pulse regime
Maximum Optical Power CW (polished side exit)
300Wcm-2
300Wcm-2
300Wcm-2
300Wcm-2
300Wcm-2
300Wcm-2
300Wcm-2
Mount Diameter (mm)
25
25
35
35
35
50
50
Also see component mounting options